Zurück
crisis#3 a crisis is a snapshot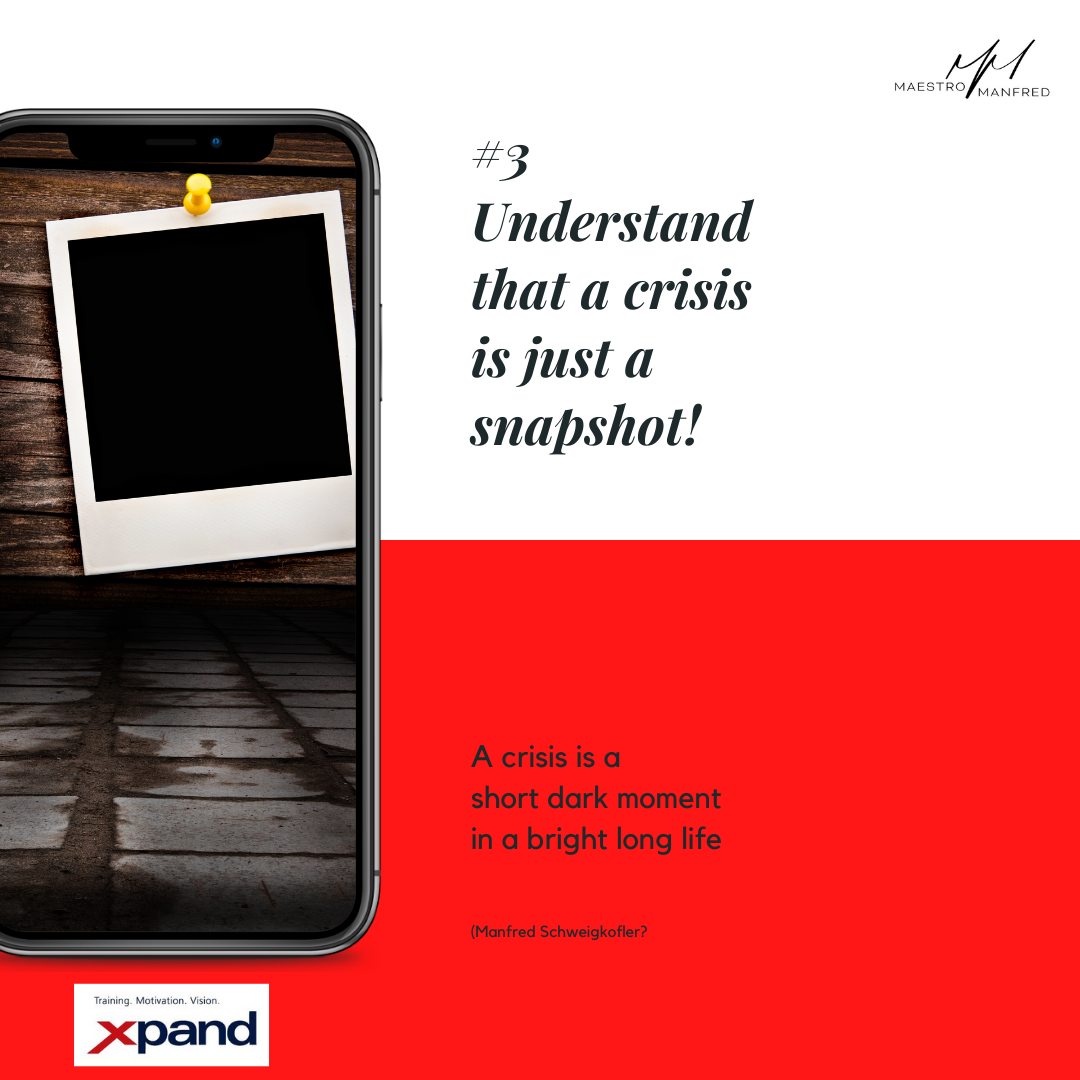 Remember (as we heard in #2) that a crisis arises in your / our head, through evaluation.
During a crisis period, we only see a very limited section of what is going on in the big picture. Unfortunately, this is actually going mostly downhill. If you are only focused on that narrow section, it actually looks disastrous. Apokalypse now! In these moments it is difficult to see that it is only a temporary and passing snapshot, a phase, a period, an in-between time, which is not representative of what may come afterward.
Remember your first heartache. Broken heart. There was no longer any point in living at all. A feeling of mega galactic loneliness. The violins were silent, the sky a black hole. Or the first really bad contract, the first really bad purchase, the first time the bad feeling of being really badly linked ...
The boxer who is lying on the ground and being counted is in crisis. But he doesn't have to be in a disaster. If he stays in the tightness of the knockdown, he is literally "on the ground". At this point, nobody is betting on him anymore. But he can pull himself up again like a Rocky, you remember. And even if he should lose this fight, it will only be a crisis again, but not yet a catastrophe. He'll get the next chance, with the next fight.
A crisis is a state between two other states of which we know the one - past - more or less well and the other - future - not yet. A crisis is therefore a transition, and not even necessarily a complete turning point; Perhaps it is even an important, evolutionist step, a beneficial development that was necessary and that ultimately - after a while - can also be absolutely positive and productive. A crisis is only an intermediate state and by no means a catastrophe.
Lockdown tip # 3
Because you are just so beautiful at lingering (# 1) and evaluating (# 2): Reflect on moments in your life that presented themselves as catastrophes at that moment and that you can only laugh about today. And also think about how productive and creative you have been in solving the problem…