Zurück
crisis#2 a crisis arises in your mind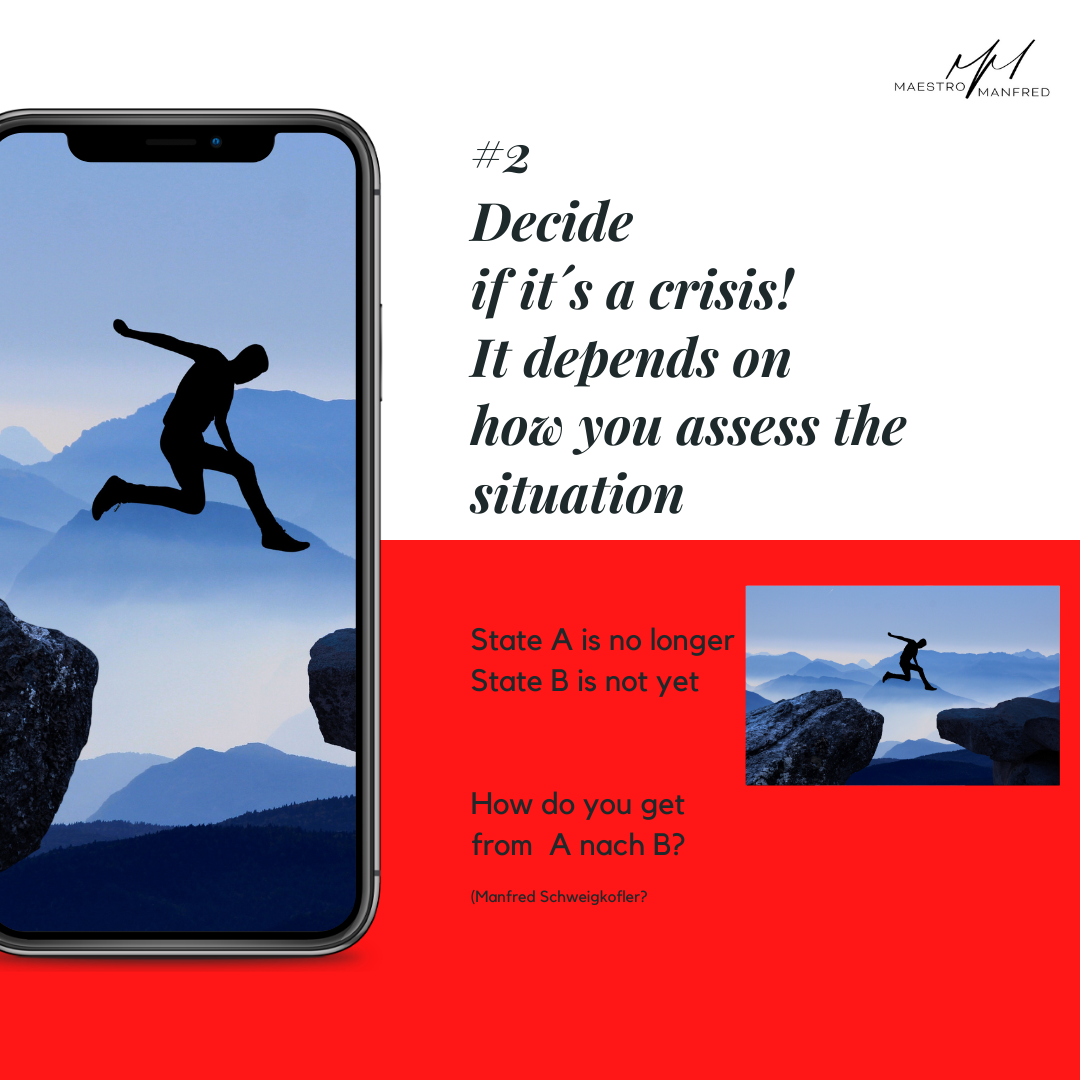 Whether this condition is actually critical depends primarily on how it is assessed.
assessment
The facts about a situation are what they are: if you've been fired, you don't have a job; if you are no longer healthy, you are sick. He who has been abandoned is alone. It is a fact! How these facts are evaluated and assessed in terms of their impact depends on one's own personality, character, personal resilience, and own experience. That is why every crisis arises first in the head and has primarily to do with our worldview, quite banal with the question: How do I look at the world?
You know the color filter programs on your smartphone or in your image editing program: the picture always stays the same, but the result changes due to the different filters. It is similar to the assessment of crisis situations. Your vision determines whether you see something brown, green, blue, red, or whatever. Or pink. And whether you see a crisis.
Ultimately, a crisis is a great general question of trust. The old, the known, state A was "familiar" to me; I had confidence in my situation, in my comfort zone. This trust has now been lost. And you don't know whether state B, the new thing that is to come, can actually be trusted …
experience
Much more important when evaluating a critical situation is the question of what options are available to me to cope with this new situation (or not) and here, again, the experience I personally have in dealing with similar situations plays a decisive role. Proactive people are not only not demoralized by crises, but actually build on them in difficult, challenging situations. They are used to dealing with new situations and even enjoy them because they know that they have often come out of crisis situations very well and unscathed. Those who, on the other hand, have never been particularly good at coping with crisis situations, who have mostly saved moments of failure in their memory, will trust themselves less and less and will be more hesitant in their assessment, perhaps even fearful, nervous; or even desperate, panicked, hysterical. Through my worldview, i.e. through the glasses through which I look at a situation, I try to classify how (un) threatening a critical situation is or could be.
My experience backpack helps me to assess what proven experience I already have in coping with similar situations. Depending on the results I get, a crisis will kill or motivate me.
Lockdown tip # 2
Take your time for assessment, evaluation, decision. You have to decide whether the new situation, as you assess it, is manageable with your experience potential or not. If so, it is not a crisis, but an opportunity. A crisis is an evaluation. The word crisis is borrowed from the Latin crisis. It goes back to the Greek word krisis and actually only means - completely unspectacular -: separation, decision, judgment, opinion. The corresponding Greek verb for this is krínein, which could be translated as separate, divide, distinguish. The word criticism goes back to this verb, meaning evaluation, a decision about something. What does a critic do: He evaluates, judges, gives an opinion on something. This is your job now: rate!